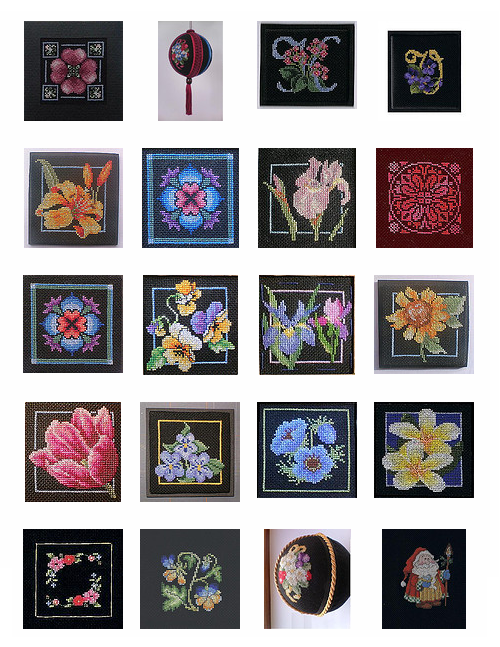 (For detailed information on any of these projects click on the image and you will be transported to my online album.)
I have stitched about 20 small projects on black and none of them were designed to be stitched on dark fabric. The results have sometimes been disappointing. Often I find that large areas of light colours can appear grey. In "Cross Stitch Flowers" Jayne Netley Mayhew recommends that when one chooses to stitch projects that have been designed for light fabric on dark fabric that they should either use a slightly higher count fabric or more strands of floss. I have also achieved better results by choosing threads that are one shade darker than the suggested thread.
Additionally I find that I have to be aware that very dark colours adjacent to the black fabric sometimes disappear into the background. When stitching on black fabric thead of medium hues, especially jewel tones, are usually the safest bet.
Take for example these two ornament prototypes. Both were stitched from the same EMS "Christmas Greeting" design with the same threads on 22 count. The jewel colours look good on black and the greens look okay but the white and beige flowers become quite drab and grey and the backstitching around the gold ribbon looks like a dotted line.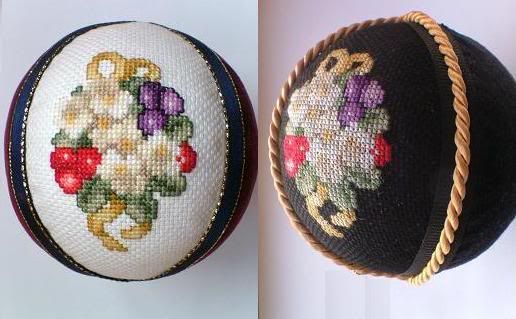 The next time I stitched the same design I made all the berries a red colour I knew would work on black and changed the white and beige blossoms to blue blossoms. I also stitched the ribbon with magenta floss and eliminated the backstitching around the ribbon.
My advice to anyone who wants to use a dark fabric where the designer has specified a light fabric is to take the time to do a sample first. If there are large areas of light floss try stitching a sample. If there are areas where dark threads might disappear into the dark background try stitching a sample. You might decide to use a higher count fabric or more strands of floss. Or you might decide to change some of floss colours.

Pinwheel 2010