I think the first Cross stitch Ball ornaments I saw were in the Leisure Arts Book "A Christmas to Remember". I was intrigued. The ornaments were constructed from four sections of fabric on Styrofoam balls. (These photos are from the book.)
Later I saw, and was in awe of, this Mistletoe Kissing Ball in another Leisure Arts book called "Merry Christmas ABC". Again, this one was constructed from four pieces of fabric but this time the sections were not all the same width. (These photos are from the book.)
When I asked on
123 Stitch MB
about Cross stitch Ball ornaments Phyllis W. shared a template that she had for a four piece one. For this ball the four pieces are on the bias and joined at one end. Phyllis also shared a N*O*E*L one that she had stitched almost 30 years ago. The pattern, "Kissing Ball", was by Jeannie A. Martin. (Copyright Linda Dennis of The Finish Line.) It has 8 sections on a 6" ball. Phyllis says that there was also a very pretty design with mistletoe boughs on every other petal.
Since then I have also found photos of some lovely Cross stitch Ball ornaments by
In a Gentle Fashion
. The first is a Nativity series and the second is a Christmas Ball series. It says on the website that the latter are made of 6 panels.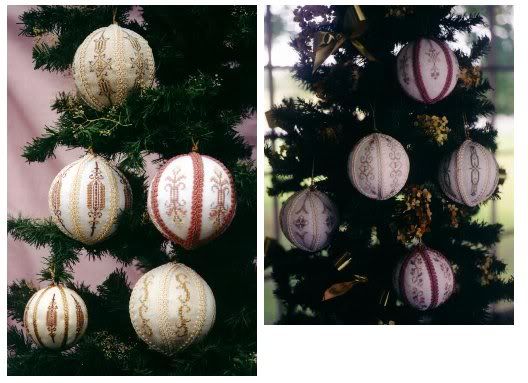 I found some online instructions to make a Cross Stitch Ball. The author, Martha Beth Lewis, refers to a Christmas Ball project in the December 1995 issue of Just Cross Stitch Magazine. I have learned that this ball was designed by Linda Palmer of In Gentle Fashion and it is similar to the ones in the Christmas Ball series. Lewis says that there were no detailed instructions in the magazine so she developed a way of doing them using diamond shapes. I haven't tried her instructions, but she says that the trim she uses covers any gaps between the fabrics. (
Click here for these instructions
.)
There is another very good tutorial online that shows someone constructing a six piece ball ornament. She used machine embroidery, instead of cross stitch, but the method would be the same. (
click here for tutorial
)
A couple of years ago
I played with some prototypes of Cross stitch Ball ornaments and finally in 2008 I stitched and finished one. I used a design by Ellen Maurer-Stroh called "Christmas Greetings" and I stitched the design twice on one rectangular piece of 22 count hardanger. Then I cut the "petals" for the ball, leaving them attached at the "equator", like the yellow lines in the bottom picture diagram below. (Each petal is 1/2 the circumference of the ball tall and 1/4 of the circumference of the ball wide.)
Along the way
I figured out a couple things. The first thing I figured out is that stiff fabrics, like aida, will probably not mold as well to the curves of the Styrofoam balls as will evenweave fabrics. The 22 count count fabric that I used was from Zweigart and by dampening the edges I did manage to mold it to the shape of the ball. The packaged 22 count that I used a couple of years ago did not mold as well. If one did want to use a stiffer fabric than I would recommend that they try to use a design that could be stitched on the bias. Or that they choose a design that would allow them to use 6 or 8 sections.
I also discovered that if you want to wrap wide trim around the balls than the ribbon needs to have a lot of give. Some upholstery trim will work and bias strips of fabric may work too. I ended up using fold over satin elastic (5/8 inches wide) and upholstery trim.
I have made some adjustable templates for the petal shapes (lens shapes) that one uses to cover Styrofoam balls. Click on the link below to find the page about them.
Lens Templates
Long after I put together this blog page I found this lovely three piece redwork ornament. The ornament uses the template for a 6 piece ball but only uses three pieces.
The blog where I found the photo is not in English but there are lots of step by step photos.
http://lovebiser.livejournal.com/128415.html
This red work ornament inspired me to make
my own three sided ornaments.
>
November 2012 Postscript
I found a webpage that has a lens pattern generator. Click on the photo to visit the webpage.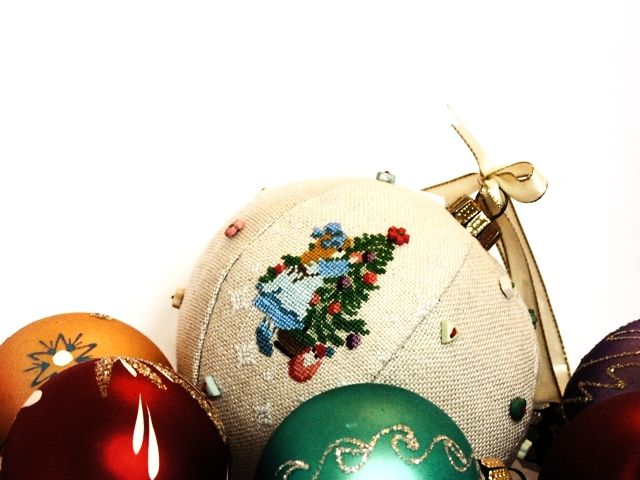 I also found a website that sells kits for making this type of ornament on an 8 cm ball. They wind thread around the balls to fill the gap between the fabric pieces. Click on the photo below to visit the website.

Of course,
there is more than one way to cover a ball with fabric. Here are two examples that one may be able to adapt for ornaments.
"A Patchwork Garden Pincushion Ball" by Twisted Oaks Designs
Ball made from 12 pentagons from "Jo Verso Cross Stitch Cards and Keepsakes".
November 2012 postscript

I found a website that is selling the pattern for the ball below. Click on the photo to visit the webpage.
Finally,
there are the balls that have the cross stitch designs framed by fabric or ribbon. There are the ones from the ASN book "Easy Cross Stitch Folded Star Ornaments". I made some of these in 1992 but I would rather share pictures of two very nice ones I saw for sale on ebay.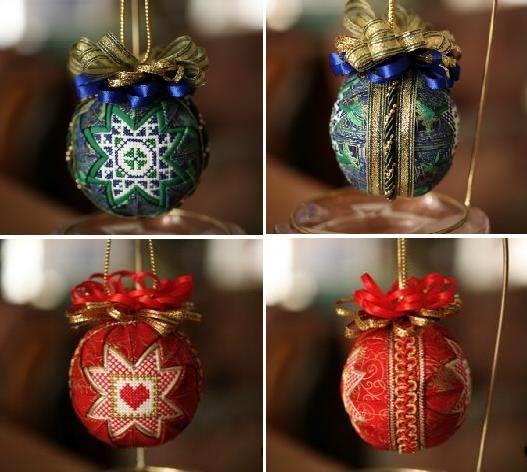 >
I have recently noticed that there is a second book of these ornaments. It is currently only available as an e-book download. The first link below will show you a close up of the covers and the first page. The second is the web page where one can order the book.
http://www.hchltd.com/CrossStitch/FoldedStarOrnamentPREVIEW.pdf
http://www.hchltd.com/CrossStitch/
And there are ornaments where the cross stitch design is framed by pleated fabric. This egg shaped ornament comes from an needlework project by Associated Talents.
In 2011 I made mock ups of some ball ornaments where the cross stitch is (or could be) framed by smocked, pleated or slashed fabric or ribbon. To see the blog pages about these projects click on the photos below.
November 2012 Postscript
I have found a website that sells kits that use wound thread to cover the gap between two cross stitch circles. Click on the photo below to visit the website.
They also sell kits that use a stitched band and wound thread to cover an 8 cm. ball. I think they also would look very nice if they were wound with satin rat tail. (Or one can add a cross stitch band to a commercial satin ball or a ball wound with fabric (knit or bias cut) strips.)
a href="http://s577.photobucket.com/user/pinwheeltwo/media/blog/4420-02d2-1.png.html" target="_blank">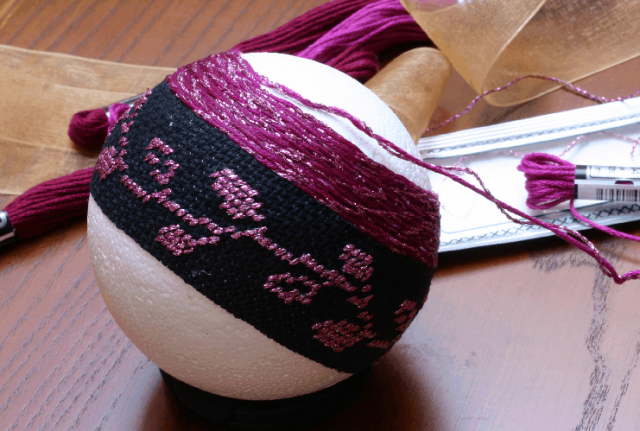 Pinwheel 2008, 2010, 2011 and 2012